Moores Creek National Battlefield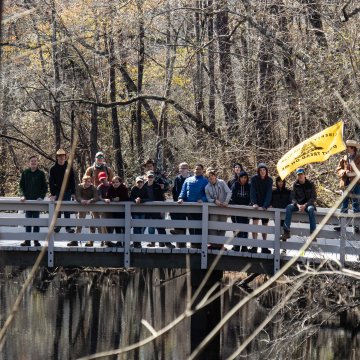 Our Navigators and Adventurers visited Moores Creek National Battlefield recently, and were blessed with a mild February afternoon to tour this historic site. The Revolutionary War battle of Moores Creek Bridge was fought on this site on February 27, 1776. While numerically a small battle—the battle may have been as short as 3 minutes and had a modest number of soliders involved—it proved important for the early war effort in the south, and in North Carolina in particular. The victory at this bridge inspired and advanced the independance movement within the colony of North Carolina.
There were many practical lessons for the trailmen here. One doesn't need to be most famous or most numerically significant to nevertheless be pivotal to an overall effort. Also, the shortness of the battle and the compactness of the battlefield makes it easy to understand the basic miltary strategy employed by the patriots with great success.
While visiting the battlefield, our troop camped at Jones Lake State Park.
This post is part of the
category
:
Campout